It's been almost one year since the international insurance services group APRIL announced its acquisition of Benecaid. Since April 2018, the managing general underwriter and third-party administrator, and APRIL Canadahave had plenty of time to map out partnership opportunities and synergies as the sister companies kick off their second year together.
The merging of property and casualty expertise with life and health insurance capabilities that underpinned the acquisition was a deliberate move on the part of the APRIL Group to expand its offerings in the health space, which makes up a significant part of the company's footprint globally.
This strategy isn't necessarily unique to APRIL. In fact, many MGAs in Canada and around the world are looking to cross-leverage these platforms, according to Peter Berczi (pictured, above), president and CEO of Benecaid, who explained, "Instead of being siloed – property and casualty versus life and health – there's a lot of interest in terms of how do we do more of this together, so it's not just strategic for APRIL from a health perspective, but also within Canada, they see a bunch of synergies between us and my partners at APRIL Canada."
For APRIL, it was a question of finding the right opportunity in the insurance market to seize on the opportunity in life and health, Sébastien Gabez (pictured, below), president and chief executive officer of APRIL Canada, told Insurance Business. The company conducted an exhaustive study of the Canadian market to pinpoint an ideal partner in life and health, and Benecaid's proven track record with utilizing technology, along with its cross-country presence and focus on the SME market, a key play for APRIL globally, put it firmly at the top of the list.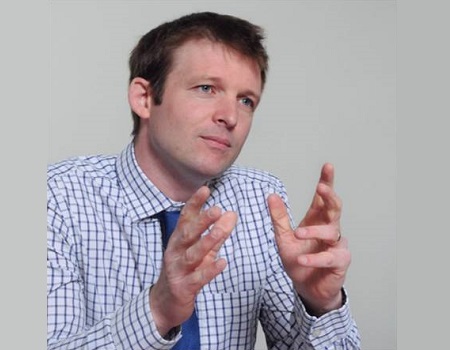 The benefits of the partnership extend to consumers and brokers. Bringing P&C, and life and health together under one roof is important for small and medium-sized businesses that want to get all of their insurance solutions from one place – whether it's employee benefits or E&O coverage – and they don't see the divisions between the two insurance segments. Brokers in turn can be better partners to their clients by meeting these needs.
"We're seeing demand from brokers now who view it as an opportunity – they've invested so heavily into a relationship with that particular company and they are looking to get more share of wallet," said Berczi. "They've worked so hard on this relationship and developed it over the years that they can, with a little bit of assistance, move into other lines of business, so it's a natural cross-selling opportunity."
"For us, only serving the P&C side was a weakness," added Gabez, highlighting that the partnership has created a one-stop shop for brokers.
Another good reason for P&C insurers partnering with life and health is the fact that the Canadian health insurance market is growing, and is ripe for the taking. While it's dominated by three major players, there are still many opportunities in certain segments of the marketplace.
"In the small and medium-[sized business] market, there's less penetration of benefits. If you look at large companies, say 500 employees and above, the penetration of health benefits is essentially 100%. As you move down into smaller businesses, the penetration drops off," said Berczi, adding that half of Benecaid's sales come from accounts which are offering employee benefits for the first time. "That is a huge, growing [space] and we're well-suited and designed to be efficient in the SME market."
Smaller companies are often lacking large HR departments, which puts more onus on employees to manage their benefits on their own, and often digitally. Benecaid has invested heavily in technology that allows employees to configure their health plan to their specifications and unique lifestyles. The result, a platform known as Honeybee, allows companies to set up accounts for each of their employees, select which benefits options are made available to them, and set budgets for employees and the overall company.
The employee then chooses how to spend their allocation among their various health, drug, and paramedical needs, and they can also pick between perks like transportation, pet care, child care, fitness classes, and transportation, among others, if the company wants to offer those benefits. The end result is that companies can contain their employee benefits costs, and employees get to tailor their benefits, versus having a one-size-fits-all plan that doesn't address each person's unique situation.
APRIL Canada's employees and leadership is excited to put the Honeybee platform to good use.
"One of the projects in 2019 is to benefit from the Benecaid solutions," said Gabez. "This will drive more value to my employees and new people will join because this flexible approach is something which is not that common in this market."
Over the coming year, the cross-pollination of distribution channels will also be on the to-do list for the sister companies, as well as ongoing investment into Honeybee, and, for APRIL Canada, continued focus on specific niche markets alongside efforts to implement tech-driven, innovative solutions, keeping the end customer's experience in mind.
"An MGA that first of all, will not drive value to its end customer in terms of products and services and second, [that] will not be able to digitalize its offering will [struggle] to survive in this market," said Gabez.